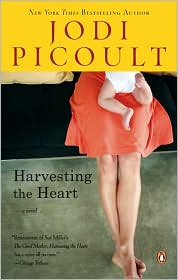 "Harvesting the Heart" by Jodi Picoult
Pg 304
" "I eat everything," I told her. I chopped cucumber, thinking how ridiculous it was that I did not know what vegetables my own mother would eat in a tossed salad. I couln't prepare her coffee, either, or conjure her shoe size, or tell a stranger which side of the bed she slept on. "You know, " I said, "if your lives had been a little different, I wouldn't have to be asking these things."
Hope you enjoyed my little Tuesday teaser. I hope it inspires you to read her books. I am almost done with the book so the review is coming shortly. For all my Tuesday Teaser friends, please feel free to follow me and I will return the favor. I love finding new blogs and books to read.
Take care... Until next time.