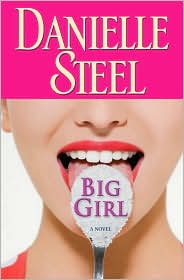 Ahh "Big Girl" by Danielle Steel. Victoria Dawson was always referred to as "big girl" by her father. He refereed to her also as the "tester cake", after her sister was born, perfect little Gracie. All though her school years she consumed herself with her sister. Her parents were self absorbed in their own lives. Victoria's own mother lived for her father, to do what made him happy, and to under mind and intimidate her oldest daughter with comments and remarks about Victoria's weight. All though school, high school and college, Victoria was a weight yo-yo. And even after landing her dream job teaching at a prestigious private school in New York, it didn't satisfy her parents. Sadly her dating life was slim to none. And then the shocking blow, her perfect sister, wants to marry the first boy she meets in college, whom is a copy image of their father.
Will Victoria convince her sister not to marry? Will she ever tackle her weight problem? Will she ever marry herself?
Sadly this book was a big flop for me. I couldn't wait for it to end. It seemed as though all Victoria talked about was her weight, over and over and over. Made issues out of nothing. And when she could change, she didn't or fell off the wagon. And the descriptions of her weight went on for pages and pages on end. Gracie seemed a little too perfect. Her parents were really mean. It was not one of the best novels that I have read by Danielle Steel. Sorry Danielle Steel, not a fan of this one!